QIDC
2021-01-10 02:01
329
Melodious music, gorgeous lighting, exquisite craftsman's works, antiques and antiques spanning a century, delicious food and wine from all over the world From July 25 to 26, a two-day Music Fair was held in guangxingli college, No. 63 haipo Road, Shibei District, Qingdao. The event was jointly organized by Hetai college, Qingdao Guotai Hongxin Industrial Development Co., Ltd. and Qingdao hejiaxinyuan catering culture Co., Ltd. and co organized by Shibei construction investment group and Qingdao industrial design innovation center, attracting hundreds of people to visit Punch in, add a different color to guangxingli.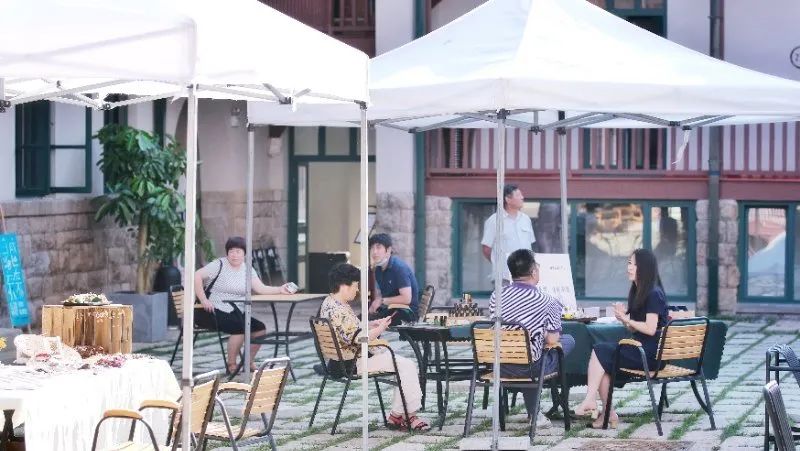 Guangxingli's unique historical position and its representativeness of historical value and artistic value can be regarded as the largest island city in terms of land area, age and other aspects. At its peak in the 1940s and 1950s, guangxingli was once prosperous in business and full of tourists. The holding of a series of music fair activities is no different from shouldering the historical responsibility of rejuvenating the historical and Cultural District of the island city mission.
The citizens who came to the event took out their mobile phones and cameras, took a group photo in guangxingli courtyard full of memories, learned how to make handicrafts on the spot, went to the brand booth to learn about the coffee culture, or sat quietly on the chair with the cool sea breeze, enjoying this rare and pleasant time.
In the first phase of guangxingli music fair, we invited many musicians and lovers, painters and artists, craftsmen and performers, overseas friends to jointly plan and implement, hoping that everyone can share music and beauty here in the post epidemic period.
In recent years, the revival of market culture has greatly promoted the cultural and economic prosperity of the island city. With this in mind, we are willing to inherit and carry forward the market tradition, integrate the eastern and Western cultures, gather friends at home and abroad, organize and implement a series of theme cultural activities of music fair, and combine different forms of music performances with art exhibitions, so as to make it a new era youth market It is a platform for young people to start their own businesses and a practice center for cultural exchanges between the East and the West. The holding of guangxingli Music Fair has brought new experience and new culture to the people of the island, making guangxingli glow with new brilliance. In the future, we will also make more contributions to the cultural and economic construction of the island city by holding such activities regularly.